I LOVED our farm. We were the only boarders there aside from one retirement boardee. N, the owner, took impeccable & customized care of Solo for me, adjusting his food as needed, giving him daily showers in hot weather, picking inappropriate weeds out of his paddock, & scratching his itchy spots. It was a very satisfied horse who would canter up to the gate to meet me every day.
And I was in heaven. I couldn't brush/clean up/polish tack/comb mane/buy accessories fast enough to work out 25 years of pent-up horse possession.
I had new goals: (1) Teach Solo to longe without near-death experiences. I'm not addicted to longeing but I find a very useful tool both for strength & balance building & exercise on days that I am too tired or too hot to ride. (2) Rehab his feet. They were a flakey, cracky, nasty mess. We were loading him up on Super Bio-Zin & leaving him barefoot & N's farrier was a gifted worker of magic. (3) Create muscle tone. See previous description of hill work.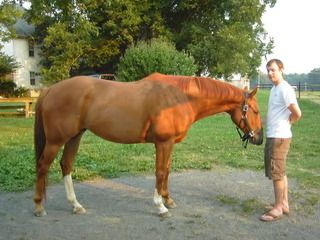 The two great loves of my life.
But nothing lasts forever. My job changed & I had to move three hours away. Much as it broke my heart to leave N's place behind, I was working for an agency I had spent years trying to get into & the new job was exactly what I wanted to do.
And it was the perfect opportunity to buy a truck & trailer! My current vehicle (
2-door Explorer
) was obviously not suitable for pulling a horse, so the search began.
Things I know
now
that I wish I had known
then
:
You can get a clean title for ANYTHING in Georgia, no matter what has happened to it.
When a truck is lifted, the wiring often gets majorly screwed up.
People often lift trucks to hide front-end problems.
You should always check to make sure the cloth pattern on all the seats matches, indicating original seats.
Always check trailer hitch wiring BEFORE purchase.
The overflow container for coolant should ALWAYS have some coolant in it.
CARFAX is a joke. There's a LOT that doesn't show up on there.
Oh well. It pulled great! And I found an '88 WW 2-horse trailer that had just been reconditioned for a steal. It had a full dressing room & was just what I needed. It also happened to be 6'6" tall, but technically, Solo fit. As long as he didn't want to raise his head very high. I added some mats, did some patching on the inside lining with some plywood, fixed the window leaks with duct tape for that final redneck flourish...
And we were mobile!
And here is where I was going to post a picture of our first rig -- 98 Expedition in shockingly boring white with bright red little trailer behind. But dammit if I can't find the picture, I swore I kept one. *
sigh
* Well, if I can't find that, then you get the next best thing: Solo in his cute little outfit for riding IN said trailer: