Edited to add: there appear to be some photo sizing issues in Firefox. When viewed in IE or Chrome, they appear normal to me. All photos have been uploaded at the smaller size, I don't know what's up with that. Sorry, working on it. Oh, Firefox, you disappoint me so, I have loved you long time... If you click on the pictures, you can see them at normal human size (as opposed to ginormous).
And nothing makes you feel like your HT experience was complete like sitting on the curb at AutoZone on your way home, waiting for a clerk to come bring you a new truck battery (my back was not in the mood to be lifting batteries). Ends up, he took too long, so I stole his tools and did it myself.
It started well though and I'm going to try to keep the story short and instead, crash your browser with media. Because I'm nice like that. All photos by
High Time Photography
, thank you!
Dressage:
Wow, I had a heck of a horse. For the first time EVER, Encore was completely rideable in the ring. He was (mostly) soft, he did not anticipate and only had a few tense moments. He canter was sheer loveliness to sit on. The judge nailed him hard on almost every movement because he is still a bit counterbent quite often. I have ridden under her before and knew she was tough, she never liked Solo's work much either. But as I said before, she doesn't know his journey and she doesn't know what he was like even a week ago, or last Wednesday, when I spent a marathon NO MORE ANTICIPATORY BULLSHIT session that about killed my knee but apparently worked! So me = completely stoked with his test.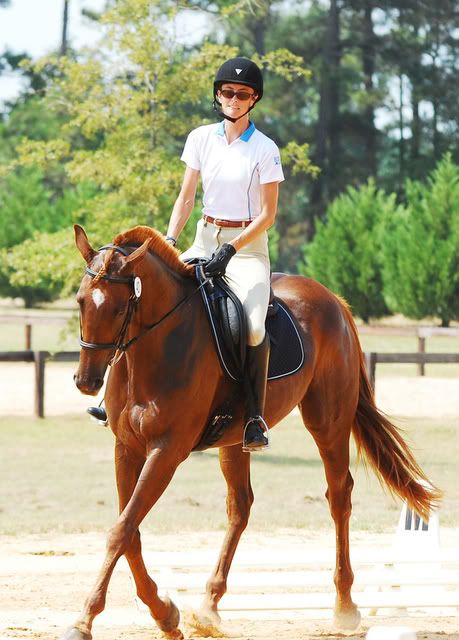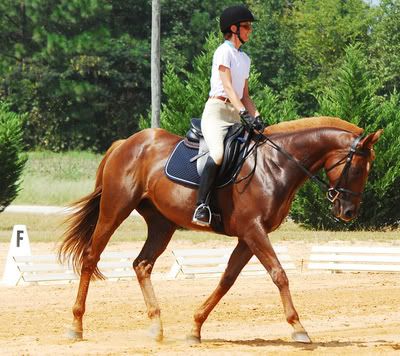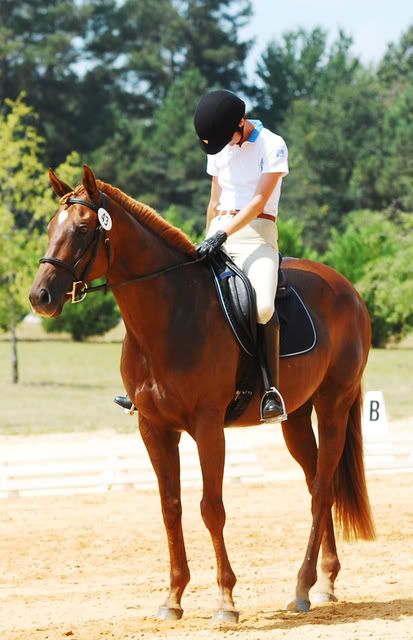 Where are my cute points?
Cross Country:
Here, he started to feel the hurt. Because HE WOULD NOT DRINK ALL DAY. It was hot and humid and the little bugger would just not slurp any water. He galloped his heart out and went double clear, but he was getting tired. The footing was also hard and slick (never experienced that at CHP, would never have dreamed of needing studs there for Novice!) and he lost his hind feet out from under him a couple times, so he jumped around just feeling a bit greener than he is. Oh, and the last jump on course? His nemesis which he
defeated this past spring
. Ha! I cooled him off and we went "home" to our wonderful friend's farm where I hoped he would tank up overnight.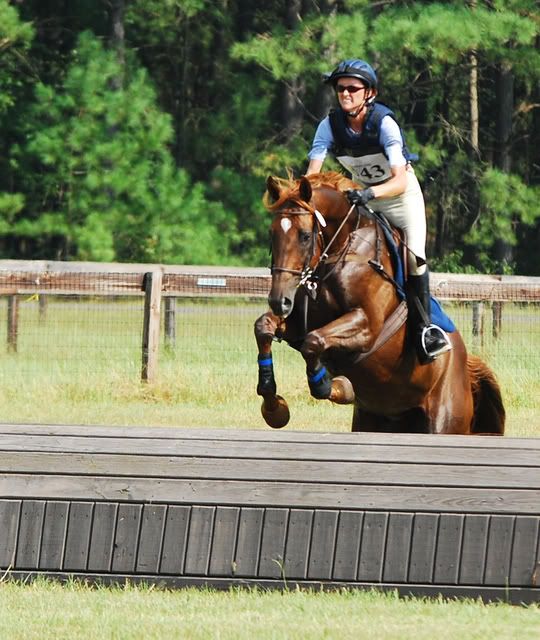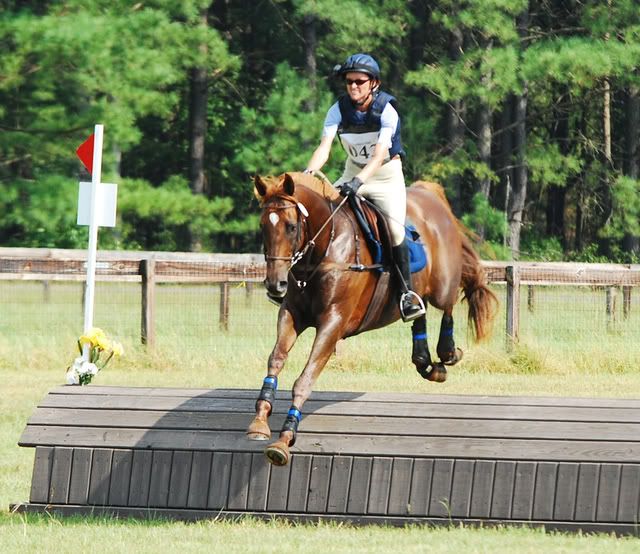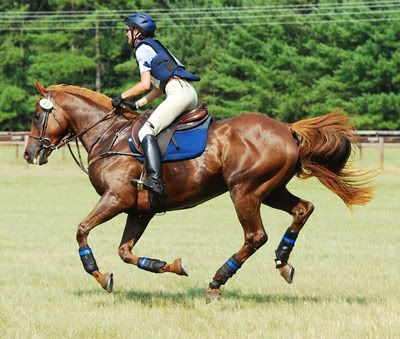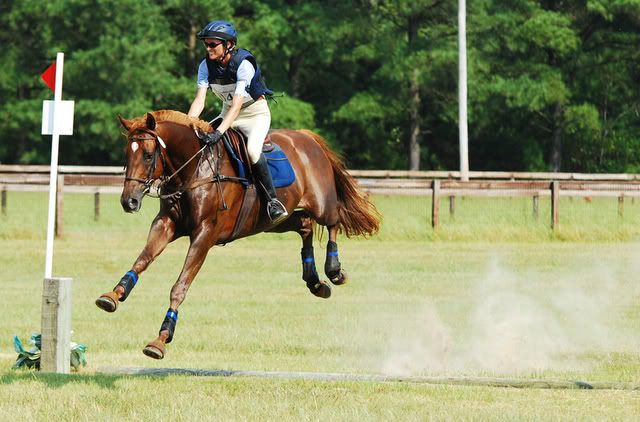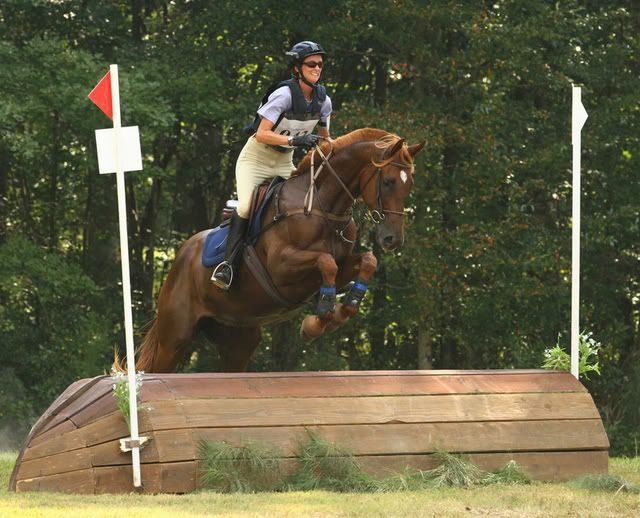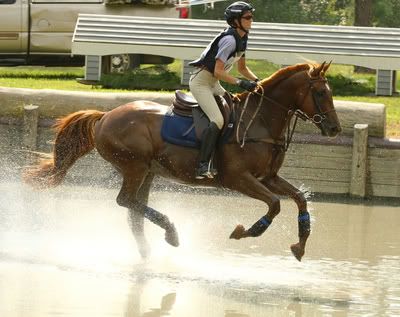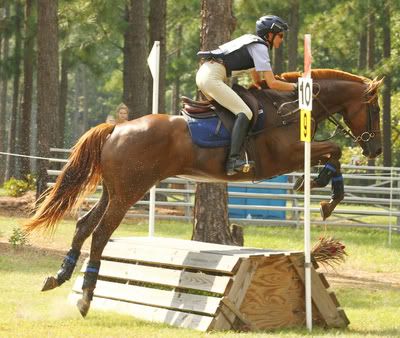 HELMET CAM I REMEMBERED TO TURN ON!
It was supposed to upload to YouTube too. Crappy software fail. I'm not thrilled with this one and I'm not sure why it appears we are riding in an earthquake while being pounded by hail, but perhaps you should take some Dramamine first...
I am making this a link for now, because the sizing all wrong and this whole post seems to have imploded blogger. So, CLICK HERE FOR HELMET CAM VID!
The ever-super Sue's perspective:
Stadium:
Sunday woke us up with cool, beautiful air that smelled the way a fall horse trial should. After jump-starting the rig, sigh, Encore and I went back to the horse park and I expected a clean jump round. Expected. When we got to warmup, I found out that my horse had not taken full advantage of his pasture and trough Saturday night and felt a bit tired. I warmed him up and he was jumping clean, so I let him hang out till it was time to go. My plan was just to gallop him down the side of the arena to the start flags and just keep my leg on to keep him moving over the fences.
CHP had other plans. They had apparently had a group meeting and voted to use all their shallowest jump cups. The hollow "thunk" of rails in sand had been a common sound all day. So while Encore jumped double clear with the first 2/3 of his body, his tired back toes tapped a rail. Or five. I couldn't be upset with him, really, and I have a call in to David to see if he will help me analyze if there is anything we could have done differently. But Encore never gave up and never hesitated, so his heart was there. Naturally, once he walked back to the trailer, he drank two buckets of water. *eyeroll*
But he looked pretty...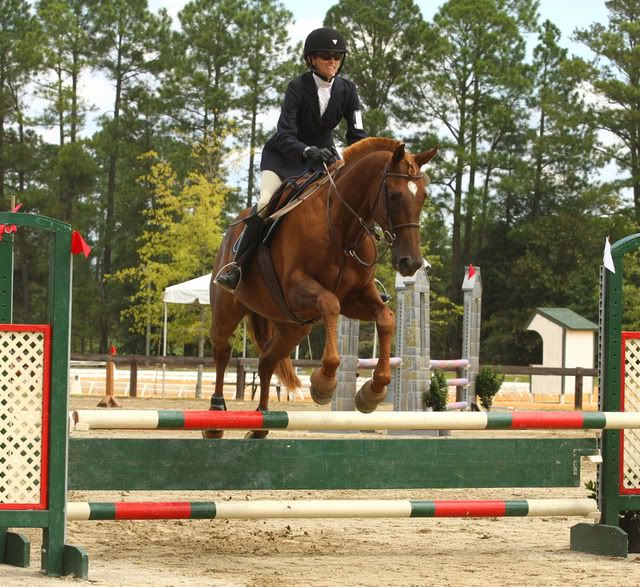 It looked bigger, mom!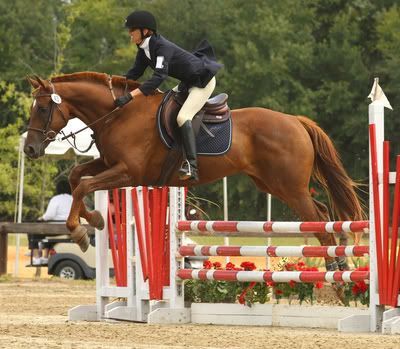 A little focus fail, but he looked too cute to pass it up.
The round:
In the end, I wouldn't have changed a thing and I already have a solution for the water issue -- I think the water in my container was just stale and I did not think like a horse and fill his bucket from the park hose until Sunday. Sigh. Nonetheless, I am very happy with his performance and overjoyed with his dressage transformation (I hope it sticks) and very much look forward to our next competition, a schooling trial on the 22nd.
This weekend though, we will hit the mountains, build some butt muscles, drink some beer, and be judged by no one but a few arrogant grey squirrels. Who says Thoroughbreds can't do it all?