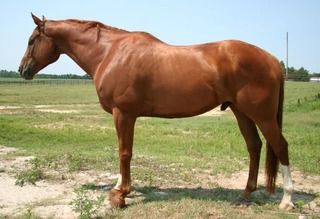 A sexy Solo, 11 yrs old & no idea of what lay ahead
It was the summer of 2007. Things were going ok.
My horse no longer resembled the Stay-Puff Marshmallow Man; there was some actual muscle definition and his feet had grown back in strong and solid.
I was getting (a little) braver. I had learned that he would jump (just about) anything and I was experimenting out on our "cross country" course (which sadly is no more).
Feeling pretty awesome in the XC field
Most importantly, my horse was (I think) having fun. Even though we still had no controlled canter to speak of. I was successfully avoiding that particular issue.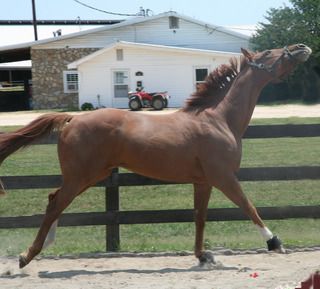 WHEEEEEEEEEEEEEEEEEEEE!!!!!!!!
At the same time,
I was getting more and more frustrated with this whole hunter thing.
Solo was fast, he had a big stride and to say he was a stylist, well, that would be a flat lie. The courses were all the same and the jumps all looked the same. Your class might start at 9 am or it might start at 2 pm and you'd better be ready for both. George Morris had failed to call and recognize our developing genius. It was frankly, bloody annoying and I wanted out.
Yeah, things were stalled in a serious rut.
An online friend gave me a tip on an upcoming
Ian Stark
clinic in Aiken, SC. I would love it, she insisted. He's a phenomenal teacher, she claimed.
But!
I protested,
What if your horse doesn't know anything and you ride like you haven't taken a lesson in years?
(which Solo didn't and I hadn't)
She swore to me it would be worth it.
A bit of background: I grew up watching 3-day eventing. We were yearly attendees at
Rolex
in the late 80's and early-mid 90's. I loved it. But it was what REALLY AWESOME riders on MIND-BLOWINGLY AWESOME horses did and
I was too chicken to even jump downhill. At a trot.
My then eventing aspirations: zero.
Ian Stark competing Full Circle II in 2006
Besides, Ian Stark was...well, look at him!
The man had four Olympic freaking medals, he won Badminton three times, took 18 horses to the 4* level (when riders were Riders and eventing was Long Format!) and he coached the Brazilian eventing team.
I was, OMG, so not worthy!
C'mon, take a leap!
So my foolhardy subconscious told me.
You can go ride with Ian bloody Stark, how often does the opportunity come around? You'll regret it forever if you don't.
I couldn't argue with that kind of logic. I sent in my check. Solo, quite cooperatively, blew an abscess two weeks before the clinic. I crapped myself in desperate panic and soaked his foot 400 times a day. I then packed everything I owned, borrowed a few more things, shoehorned my dog and my ever-patient S.O. into the Tahoe (
a '96 model with 170k & no A/C
) and drove to Aiken at the end of July.
It was only 105 degrees and we were scheduled to ride for three days: dressage, stadium, and then cross country.
As I rode into the dressage arena, for the first time in my equestrian life, my hands were shaking, my mouth was dry, and I was very seriously ill with a case of starstruck terror.