Wear ALL THE COLOURZ!
It was a humiliating ride.
I had just spent an hour watching the group before me with lovely, springy round horses and a sinking feeling in my chest. Looking around me, there wasn't a horse to be seen that wasn't trained to the nines and not a one looked like it would sell for less than $10K. I was the only person there with a rattly stock-side trailer and a backyard horse. Most folks were friendly -- a few gave me
The Look
, that one wealthy people give their staff. Yeah, you know the one.
A bit of background:
I actually grew up riding dressage on school horses, German trainer and all. It turns out dressage is easy when you are a 10 year old with no bad habits. It's a bitch when you are 27 and lopsided. Plus four years of college riding hunter eq...well, that dressage seat was so far gone it was like it never existed.
Looks like a 10 trot to me!
As I entered the ring with the others in my group, I was, as mentioned, slightly petrified. Solo obliged by being stiff, crooked, and notably uncooperative. Note the chestnut in the background on above. That's what we were supposed to look like. Also note Solo turning around going,
You've got to be freaking kidding me.
We looked more like, well, the backyard pair that we were, sigh. And our canter, true to form, went something like this:
Me:
Solo, for the love of god, please oh please canter nicely in front of Mr. Olympics!
Solo's response
:
buck-buck-buck-bolt-transition-sidestep-ugly-strung-out-canter-at-high-speed
.
The man hides his face in agony - let's pretend there was a fly...
Awesome, thanks, buddy.
Then came the charming, lilting Scot words I was hoping for from Ian: "
If you don't mind, I'd like to have a sit on him.
" I couldn't slide off fast enough and hoped he didn't really hear my effusive begging
oh-please-please-fix-us
!
Now
Solo is a very gentle, loving horse. But he is very cautious with his trust
-- he will pack around a dead beginner oh-so-sweetly,
but if the person on his back knows a thing or two, Solo worries that they might hit him or rough-house him
(he is NOT a horse you can force into things).
Ian Stark is an exceptionally strong rider who likes hot, talented horses like the legendary
Murphy Himself
, the talented Irish-bred grey. So he gets on Solo and wraps those legs around my stiff red horse and says, "
Excuse me, but you WILL move forward into contact.
" It progressed just like this: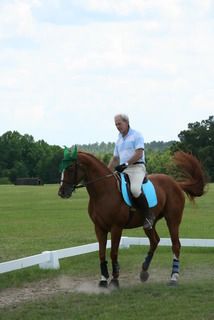 Who the hell are you?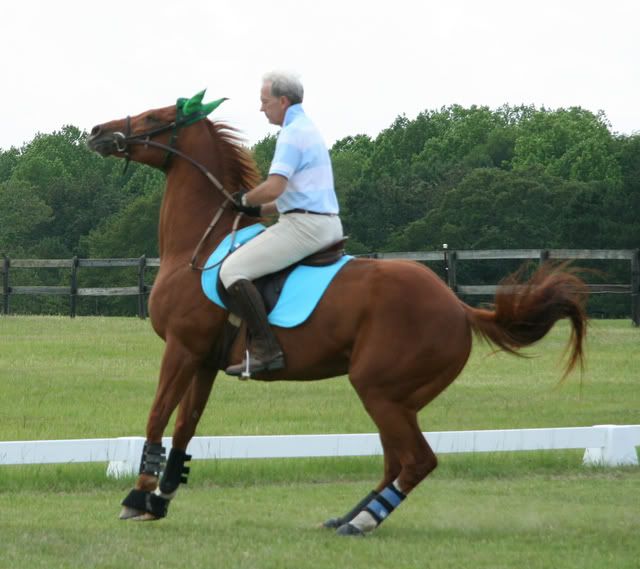 You shall receive one warning only.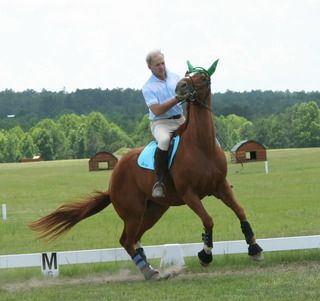 Get the f@ck off, devil man!
Looking back,
I wish I had stepped in a little
. Ian gave him a mighty crack with the dressage whip (accompanied by an exclamation of "
Bloody horse!
"), which, given some past incidents of abuse, Solo did NOT receive well and I can't blame him. Hindsight...
But overall, Ian gave him a fair and consistent ride and they ended up looking like THIS: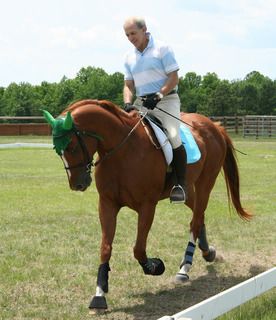 I never got that trot!!
And I drooled. And
then I had to get back on and feel what a dressage horse is SUPPOSED to feel like
. And it was amazing: I could feel Solo's back up and swinging and he was THERE, in my hands. And he was FORWARD. It felt like super-speed, but I was informed, no, that was where we SHOULD be.
Oh and all of a sudden,
our canter reappeared. So apparently all we needed was a world-class rider
to climb up and find it for us again. Good to know.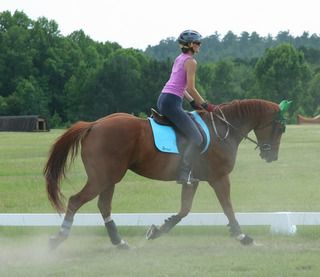 We can do the bendy thingz!
I left the ring that day deep in thought -- I needed to ride my horse FORWARD. I needed to bend him, I needed to sit up, I needed to change, well, everything.
I also left that day with my jaw set, DETERMINED to redeem our poor showing in the two days of jumping to follow. I knew this was where our strengths lay and I was going to show the doubters why we did indeed deserve to be part of all this.