And I STILL don't mean Dallas...
I had decided, amongst all this, that screw poverty, would I really know the difference between poor and really poor? Meh, probably not, so I was going to start taking a lesson or two. I just felt that
I was missing something, we just couldn't make the bridge to consistent steady progress and it was bugging the hell out of me.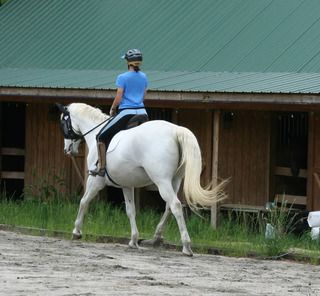 We tracked down a friend of a friend who had in the past been quite competitive in both dressage and eventing. I took one or two lessons on Solo and she threw me up on her 17.2 ex-PSG Trakhener, Reitz, whose neck was also 17.2 miles long. Notice how small I look on this horse!
At that point, I figured, hell, we took some dressage lessons, let's go to a proper dressage show! Since I don't think I can write it up better than I did off the bat, I am going to shamelessly plagiarize myself and just repost the account for the entertainment of those who missed out on it the first time around.
One Month Of Bending Does Not A Dressage Horse Make
Or how about "My Horse Is A Doofus." Or "The Near Explosion of My Head and Subsequent Murder of My Horse (
But I Love Him, I Swear!
)" Yeah, that one's a bit too long.
Warning, if the following post was on television, there would be a lot of bleeping.
So, yes, for some idiotic reason, I decide to enter Solo in a dressage show today. Two tests, both eventing tests, A and B. We've been doing great at home, lots of work on suppling and transitions, he's going much softer and listening well. No problem, right?
Bloody #$#%@! horse.
We get there, our ride time is supposed to be 8:42 so I get on about 8:20 and proceed to warmup. Little Steward Girl informs me that I ride next. My head explodes and I stare at her with the bloody stump that remains. Huh? She says "
oh, but you don't HAVE to go, we just started early.
" Ok, then I'll warm up first thanks, ok? LSG says sure.
So we do a quick warmup, things seem to be fine, Solo's looking around, but moving ok, so we head into the ready spot at A. He immediately goes all tense and stupid, ignoring basically all my aids. I do my best to get him bending again on circles, judge whistles us in.
As we begin our test, all semblance of order vanishes
and Solo reverts to gaping-mouthed, iron-necked giraffe. My hypothesis is that he thought the little tiny white dressage arena fence was some kind of horrifying little jump and he had no idea what to do with it. Oh, and the photographer at M was also apparently bent on evil.
The test in my mind:
"You bloody @#$#!! horse, slow down and relax, #%&*! Bend, dammit, bend!! I really really hate you right now." [
I interject at this point to share, by the way, clamping down and mumbling curses at your horse STILL does not cause them to either slow down OR relax. You know, just in case we don't have enough data on that one.
]
Can't you just see the devil lying in wait?
The test in Solo's mind:
"OMG, TINY WHITE FENCES! OMG, TROLLS IN A BOX ON THE END OF THE RING! OMG, CREEPY LADY WITH A BOX ON A STICK! OMG, TINY WHITE FENCES! Oh, there appears to be some insect on my back telling me to turn rather than run right into OMG, TINY WHITE FENCES! AHHH, I WILL THROW MY BODY TO THE RIGHT AT THE LAST POSSIBLE SECOND!"
Yes, it was, I'm sure, poetry in motion. I can't wait until the photographer posts the material from that *rolling eyes*
Back to warmup we went and I put Solo in trot figure 8's hoping to soften him and get him to relax more before test B. DEAR GOD, PLEASE LET THERE BE MERCY! Did I mention I don't so much enjoy dressage these days? I was praying for a jump course, praying. I love the discipline, but damn, why was it so easy when I was 12? Oh yeah, I had trained horses...
Who knew it could be so hard to teach a horse to trot and canter in a circle...calmly.
Despite terrifying tiny white fences.
Test B
. We enter the ring. Much more acceptably. Yet in a Moment of Universal Horror, I become that person at shows I always pity but generally never am: She Who Goes Off-Course. AHHHHHHHHHH!!!!!!! Stupid, stupid stupid. In despair, I ask judge for Do-Over and we resume where I screwed up. Rest of test goes ok. It's not great, but Solo is mostly listening, although still fussing with his head and insisting on method of travel in which his body is counterbent and his nose is sideways. Apparently he must keep an eye on that Tiny White Fence. We complete.
I am happier. BUT OUR SCORE IS WORSE. Apparently the universe has no mercy after all.
At the end of this, we did end up with 2nd for test A -- by default the organizer tells me (
ouch!
). I don't know what happened, everyone else must either have not shown up or had their horses leap out of the ring and gallop away. They did have pretty ribbons....sadly, our test was crap, even though the kind judge gave us a 41 and was even nice enough not to laugh or gasp in horror the whole time.
4th for test B. Out of four, so really, not so exciting. That one was a 49, ugh. Most of judges comments on both tests were as expected for Idiot Stiff Crooked Bad Horse. On one collective mark, she did write "must sit the canter." Eh??? I assumed I WAS sitting the canter -- here is where video would be helpful. I have no idea what she is referring to, so can't do much about that one.
I am off to eat brownies and sulk. Perhaps I should take up competitive trail riding -- you don't have to bend OR go in circles for that!