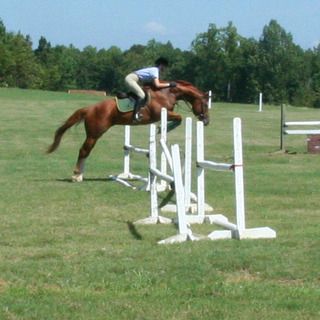 We seemed to be going along ok. I tried hard to practice what Jim had shown me, especially one exercise in which you
take one jump, then put your horse on a circle until he has a nice canter rhythm and THEN go to the next jump. Do not pass Go until rhythm accomplished
. In typical fashion, I think I did it about 8 or 10 times and then went "Ok, fixed!" *
snort
*
We had a canter, sort of. It still got rushy and unbalanced easily, especially on a jump course. Solo resembled a giraffe while executing leaning, on-the-forehand turns, but there was no bucking or bolting so I considered that problem solved too!
*
brushes off hands
* There, my horse is finished! (
snorts even louder
)
So we entered the first in a local jumper show series. No problem, right? We can jump, Solo always jumps clean, I hang on and point with gritted teeth, we'll be champions!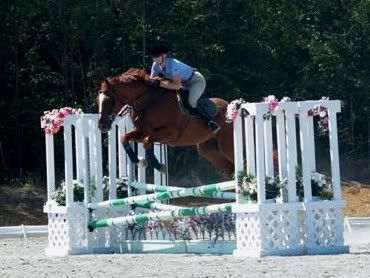 It began ok. The plan was to warm up in 2'6" and go to 2'9".
Then we got to jump #5. It was an option: (a) a skinny skinny with blue wavy planks or (b) a vertical over a liverpool. Solo had pretty much never refused anything so I went for the liverpool -- it's just a vertical right? And it had more room for error!
Right??!
It went like this:
Approach, approach
, me staring at liverpool like an idiot.
Solo begins to stare at liverpool, informing me that
there may indeed be hoof-feeding sharks in there
.
I tell myself,
Look up, you idiot!
, while at that same time staring down at Solo staring in horror at that Blue Tarp of Doom.
End result
-- at the last possible second, as I kick, Solo plants his front feet. I'm thrown off balance, but no big deal...oh wait, then
he drops a shoulder and spins away. Depositing me neatly on the top rail while he gallops back towards the trailer
wailing, "
No freaking way!
" over his shoulder.
I wish I had a picture!
A kind ring steward caught my horse and returned him to me. Solo's eye rolled at me, going, "
OMG, you are supposed to stay on me! WTF are you doing down there??! What just happened??
"
I glared at him silently as I climbed back on and in one of my (not) finer moments, growled under my breath,
I don't like you very much right now, horse.
Hosting trainer kindly lowered the jump so we could school it. I tried again. Solo planted his feet again and jumped sideways again. I stayed on this time, but caught him in the face as he jumped and his front feet popped up a little in surprise.
There nothing like hearing onlookers gasp while you are riding.
It pretty much makes you want to slink under your trailer like a dog that just got whacked in the butt with a newspaper.
Judge suggested maybe we just jump something else to end on a positive note. Solo suggested that maybe I go f@ck myself instead. There was nothing left to do but retire gracefully.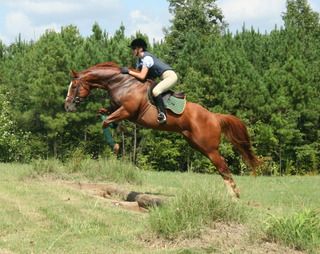 We went and schooled the XC course there instead,
I couldn't stand the thought of going home without SOMETHING positive
. Of course, as soon as he saw THOSE obstacles, Solo was quite happy to gallop and leap over anything I pointed him at.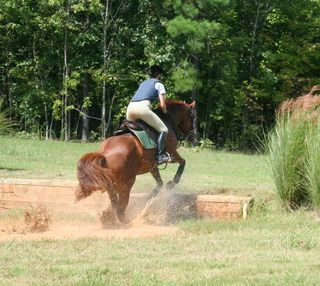 We loaded up and went home, my head hung in shame. Both of us with shattered confidence.
I had never fallen off Solo before and it made his world fall apart.
My plan: stare blankly out the windshield wondering,
Now what the hell do I do?